Lately, I have been messing around in my studio making all sorts of jewelry for myself. I haven't really blogged about it because, well, this stuff is for me. Why does that matter? Well, I don't want the concept of having to write a blog post about it to change the way in which I am creating this stuff. Plus, I am trying, I mean
really
trying, to stick to my knitting. Being a right brain crazy person, brings with it challenges in the staying focused category. I have a tendency to go where my Muse beckons me. Make sense?
Last week, I pulled out a leftover piece of fabric from my sister's
Swivel Chair for a Teacher Project
from last summer along with an assortment of beads and stuff and created this bracelet for myself.
Even though it is not a piece of furniture or a home decor project, it has me written all over it. It is filled with recycled, upcycled and recreated elements.
I like this bracelet and I don't really care if anyone else does. I showed it to my sister and to Deneen at
dreamingincolor
. Deneen thinks that I should make these and open up an Etsy Shop. Well, I have an Etsy shop....problem is, it's empty. It's always been empty. My sis had an Etsy Shop a few years back and the thought of one...well, how do I put this? Scares me. There I said it. Yep....I said it.
Today, I was messing around with an idea that I had to use paper roses on a ring. The look isn't for everyone, but I like what I came up with...
Please ignore the ugly, wrinkly skin.
I know that everyone who has an Etsy business works super hard maintaining their shops. I just don't know if that is the direction I want to go with this stuff. But it is a tempting thought. I don't think I would limit myself to just the jewelry that I came up with, I might also include things like the
Crazy LOVE Letter Sign
I made this past week too.
So what do you guys think? To Etsy or not to Etsy, that is the question. I know that some of you have shops. Is it worth the time and effort? If so, what is your best advice? Can't wait to hear back from you.
Before I leave today, I wanted to say THANK YOU to Deb over at
Twice Nice
for the amazingly lovely post she wrote yesterday. It was one of those surprises that come out of nowhere...I never get those. What a nice thing to uplift someone. If you wanna read what she wrote about me and see her totally awesome lamp revamp,
click here
.
I also want to thank Gail at
My Re-Purposed Life
for featuring, she calls it Catch As Catch Can," my Mantel Makeover.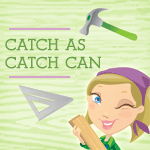 It's always such a wonderful surprise when someone likes what I do! Puts a smile on my face!
I have a few more projects almost completed in my
The Sweetest Days of Valentines Series
. I also have my hands in a few other furniture related things too. I'll be bringing them to you in the next few days!
Thanks for the support....and let me know what you think, good and bad, about Etsy! K?!
-The End-