Love is a curious thing. In it's best form, it's all mixed up and crazy. It's all undecided, yet glues us together. I was wondering how I was going to illustrate my feelings about this crazy word that means so many different things to so many different people. As I pondered this, I sat and doodled the word using different font styles for each letter. Why not create a little work of art out of the word love? Why not create a little "Crazy Love" right here in my studio?!
I went into the project with a few things in mind. I would use a piece of an old fence I dragged home from a neighbor's trash heap. I knew I wanted to use my
Silhouette Cameo
on this project. I also knew that I wanted to present something that reflected my feelings about the curious, mixed up word, Love.
I started by working out a few different layouts of the letters L O V E on my Silhouette software. I chose one grouping and sent it to the cutter. Here is what I got.
I decided to use different combinations of color, texture and style for each letter. Here were the different things I chose...
L
Using the dull side of aluminum foil, I covered the "L" securing the foil to the letter with scotch tape on the back.
O
I lifted a stock photo of conversation hearts, blurred the image out slightly and printed it out on photo paper. I cut it into a rectangle to form a background of the "O." I then painted the "O" with Folk Art Craft Paint in Light Blue#402 and used a glue stick to attach it to the center of the photo.
Using a page out of an old dictionary that shows the meaning of the words love through love game, I cut a rectangle out with a scallop scissor edge to create an interesting border to the backdrop for the letter "V." I then sponged the letter "V" directly onto the dictionary paper. This image is a little deceiving because you see the cut out letter "V," but I used the paper it was cut out of as a stencil.
Using the cut out "E" and a red tweed fabric, I 'upholstered' the letter using hot glue. I just love these fabric sample books that my designer friend downloaded on me. They are so handy.
Before assembling the letters into place on my old fence board, I fashioned a hanger for the sign out of red wire and screwed it down to the board.
Now it was time to assemble the letters. I wanted them to be at varying levels on the board. So I came up with a few little tricks to give them a lift.
I used a leftover piece of wood and glued the "L" on top.
I wanted the "O" elevated, but not a high as the "L."
So I looked around and found a few stick on chair leg
glides and glue them between the photo and the board.
The dictionary paper that the "V" was stamped onto was glued directly to the board using Mod Podge. The "E" already had a little lift due to the tucked under edges of the fabric. I simply hot glued the "E" down to the board.
I finished off the wire with a little bow made from a piece of yarn. Here are the results...
I am so pleased with the results. I have taken a few images of the sign capturing just each letter. I like the way the images stand alone and am thinking I might use them in another project down the road. Who knows.
That's how I spell...
This project could be pulled off using so many different materials and such that you already have in your supplies. If you don't have re-claimed fence wood, why not use a piece of foam core board or cardboard? Try putting your own spin on it.
Hope you enjoyed this little walk through my process of creating this Crazy Love Collage Letter Sign. If you are new to The Homeless Finch, welcome. Please take a few minutes, look around at my other fun projects. Oh! and....don't forget to consider becoming a new follower!
-The End-
This post was FEATURED at: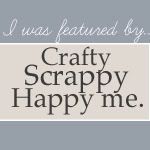 Linking this post to: