So I am so excited because my
Cherished Chest of Drawers
was featured on the blog, My Repurposed Life! For those of you who don't know what being 'featured' is.... I post my projects on other people's blogs who sponsor link parties. Gail picked my project as one of her favorites from the party! Nice compliment! The encouragement gives me energy! If you want to see the feature click on this button.
The blogs are a fun place, filled with ideas and inspiration. I see a lot of really great stuff out on the blogs. Some of the stuff becomes the basis of my ideas. Some of it is just kinda neat.....some a little strange. I am always surprised what people will 'fix up.' Did you ever think of decorating a file cabinet? Well, one blogger did......
File Cabinet Redo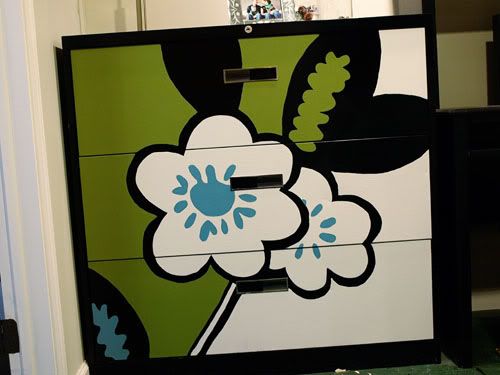 Blog: "Watch Me Redo My Room-By Room"
How about a chicken coop?! Julie at
Life at Fire Lake
, loves her chickens so much she decided to fix up their home. The coop was just a plain grey shed. This is what it looks like now. This is the same person who made the hanging bed that I showed you last week. Super creative gal!
Life at Fire Lake - Chicken Coop Redo
Many of bloggers share recipes and party ideas. I see a ton of desserts, but these amazing looking
Spinach and Mushroom
appetisers and the easy way she made them put them into the noteworthy category. You can click on the caption for the recipe and instructions. I absolutely crack up at the name of this blog. (in caption) This gal obviously does not have a girl in the house!
I talk a lot about
Miss Mustard Seed
. Her latest furniture makeover, a Cherry Blossom Dresser is just awesome. I am a fan. Everything this gal does is gold.
Miss Mustard Seed Cherry Blossom Dresser
Meme of
Screaming Meme
told a great story about a yard sale on her street and this amazing vintage birdcage piece that she got for only $13. I wish it had been me who found this...
Screaming Meme Yard Sale
Many bloggers post unique ideas that are easy, and ingenious. I saw this real cool idea for displaying photographs inside jars. Kim at
Too Much Time On My Hands
is someone whom I follow everyday.

Too Much Time On My Hands
Shaunna at
Perfectly Imperfect
was at a vintage inspired wedding last weekend. The image below shows the boutonnieres. The flowers on the pews were just like this, but placed in ball canning jars and hanging on a wire. I have never seen such a creative way of using flowers. Charming......
Perfectly Imperfect
So I hope you enjoyed taking a little look at some things that I am seeing "out there." I am hoping to finish some projects in the next day or so to show you.
I have my next meeting with Chris, my upholsterer today. I told you about this project in my blog post
Daughter, Distractions and a Multitude of Fabric
. The sofa slipcover is almost done.
I have been taking a lot of side trips for details for the master bedroom. Spent a few hours at Calico Corners and found some fabrics that I hope to use in a few mini projects. Here is a sneak peek.....
Remnant shelf....Yeah!

Checking out.

Not sure where this is going.
But I like it......
 Looking forward to my Saturday Yard Sale excursion! The weather has been a little rainy which might 'dampen' the festivities.... Have my fingers crossed that there are great finds out there tomorrow morning.....Gotta run!
-The End-