My body is a wreck from refinishing my master bathroom cabinetry this week. I still have a little touch up. The cool knobs I showed you are due here late Monday, so I will be showing the results next week.
Today, I am in my studio playing around with a few collage ideas that I have been considering for a larger painting. If you have been following me, you know that I like to use these little 5 inch cubes for experimenting with color and techniques. Sometimes they just become a dumping ground for my leftover paint that I don't want to go to waste. (Yes, I'm that cheap.)
A priority for me today is to take some time and go over to Paint Party Friday and take a look around at every one's awesome projects. I haven't had the time the last two weeks to party hardy over there, so I have designated time today to cut loose and run wild through the links! (Yes, I'm also lame.)
Click this button
to join the party!
One thing is for sure, I will be celebrating something pretty cool.
My Vintage Cabinets Gets A Chippy Finish blog post
has gotten raves reviews out on the blogs and I am so taken back by the response of so many people. It's just me and my little 'ole cabinet...you know?!! But, hey, if these super nice, intelligent, noteworthy bloggers want to give me a shout out, what's a girl to do?
Well.....a HUGE, gigantic THANK YOU is in order for sure. So THANK YOU Jaime, Courtney, Jacqueline and Gail for featuring my Chippy Cabinet.
If you want to see the features, click on the blog buttons below. Hey! While your at it....stay a while and check out their blogs and linky parties. It's a lot of fun....and you just might get some great ideas!
THANK YOU LADIES!!!!
Jaime at Crafty, Scrappy, Happy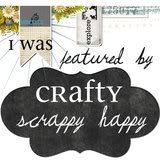 Courtney at French Country Cottage
Jacqueline at Simple Home Life....
I was caught by Gail at My Re-Purposed Life!!!!

So nice when someone pats you on the back. I don't do this stuff to get 'em, but it sure feels nice.
Now.....Back to my 5 X 5s. I got some collage techniques to test out...
-The End-