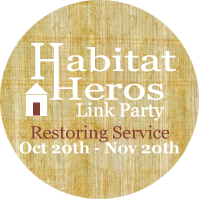 Have you heard of
Habitat Heros
? No? Yes? Well...I am just now waking up to this event that has been going on since October 20th. I'm late to the party, but it's not too late! AND it's not to late for YOU to join in too! So here is the idea. Julia of
551 East Furniture Design
came up with this totally cool concept for those of us who restore furniture to give back to our communities. I found out about the event from Cassie of
Primitive and Proper
who is also one of the organizers along with Jacqueline from
Simple Home Life
, and Katie from
Wildwood Creek
.
Pick out a piece of furniture that you have restored, rescued, whatever....you gave it awesomeness. Then you donate it to your favorite hometown charity. Blog about it. Post it to the Habitat Heros Party. Done. Easy. Simple. A great thing to do especially during the giving season.
So I am donating my Nightstand that I rescued and restored a few weeks back. I almost sold this little princess, but I am glad that I didn't. It became kinda a celebrity when it was featured on several blogs, including
Beyond the Picket Fence
, the website
RoadKill Rescue
and was even picked up by
Apartment Therapy
. I have chosen my local Goodwill to donate my nightstand to and I am headed over there today to do it!
Do you have a piece of furniture that you have restored that you are willing to donate?! If so, do it and then come back over to the
Habitat Heros Party
and link up. You got until November 20th to join in. Hey, I understand that they are offering some sort of bonus too. Giveaways or something. Check it out!
Now I gotta get going.... I want enough time to drop off the nightstand and maybe even take a peek inside to see if they have any treasures today for me. Get donating people!
-The End-